Hero Dad - Family of Nine Saved From Lake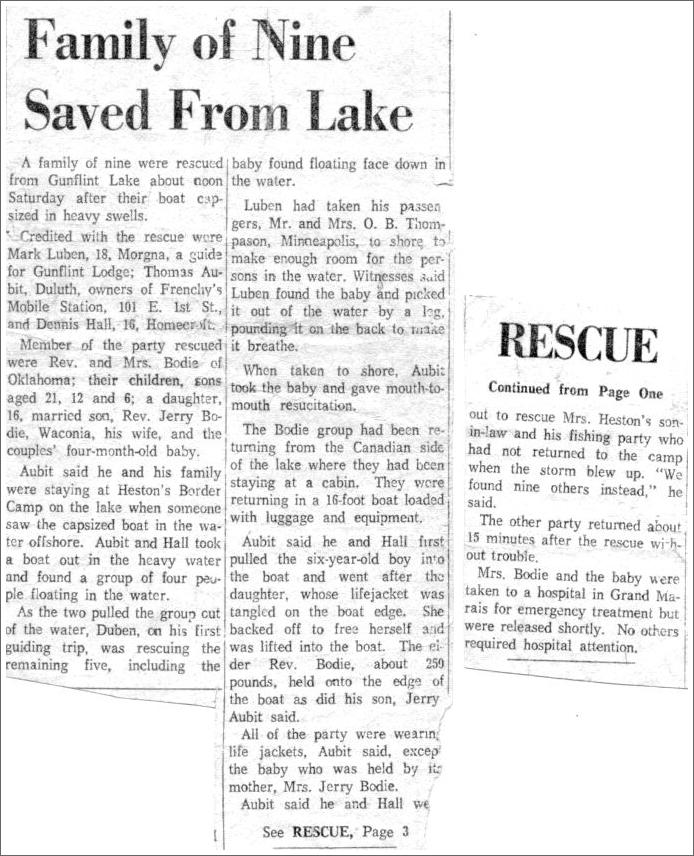 Family of Nine Saved From Lake

A family of niine were rescued from Gunflint Lake about noon Saturday after their boat capsized in heavy swells.

Credited with the rescue were Mark Luben, 18, Morgna, a guide for Gunflint Lodge; Thomas Aubit, Duluth, owners of Frenchy's Mobile Station, 101 E. 1st st., and Dennis Hall, 16, Homecroft.


Member of the part rescued were Rev. and Mrs. Bodie of Oklahoma; their children, sons aged 21, 12 and 6; a daughter, 16, married son, Rev. Jerry Bodle, Waconia, his wife, and the couples' four -month-old baby.


Aubit said he and his family were staying at Heston's Border Camp on the lake when someone saw the capsized boat in the water offshore....

Landingship.com © 2005-2021 Site by Dropbears