LST-635 was built in Seneca, Illinois by the Chicago Bridge & Iron Co, and was commissioned on 26 August 1944 with Lt. D. J. Lanphere in command.
After World War II, LST-635 performed occupation duty in the Far East and saw service in China until early June 1946. She was decommissioned on 7 June 1946 and transferred to the State Department on 19 July 1946.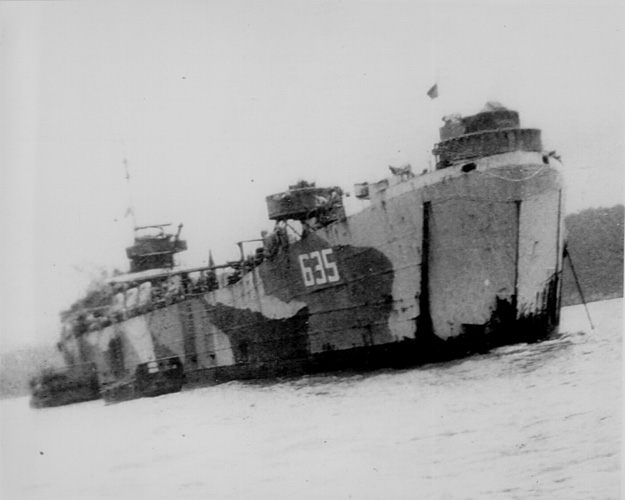 lonesailor.org
Also, you can get a photo of the Lst 635 off of the internet. I found 3.
Look up LST ships, 635. click on Lst photos, click Lst 635 (3 listed). The one with the crew in it, does not contain my father. it was taken 30 days after my father discharged. hope this helps. All names listed are still living, except my father, Art Cramer.

---
Mon Dec 20 2010
Ned W. Rhodes
ned<at>softwaresystemsgroup.com
LST 635
My father is Edward W. Rhodes who served on the 635
LST635_portside.jpg will be posted-1012

---
Mon Aug 24 2009
Melody
sanewsletters<at>gmail.com
LST 635
Hello:
Great work compiling information on LSTs. My father, John William Barrett, served on LST 635. I am looking for any photographs (good resolution)of crew members that may include my father. Are there any other resources on the web where I can find more LST 635 photos.
Thank you.

---
Tue May 26 2009
Richard Rogers
lewrcr<at>yahoo.com
LST635
Embre C Rogers aka Chuck
was a member of this ships crew. I am very interested in it's history and crew and may have a photo or two within the family
---
Norman Deihl of Clermont, FL apparently has considerable information on the 635. Please contact the editor for more information.

---
---